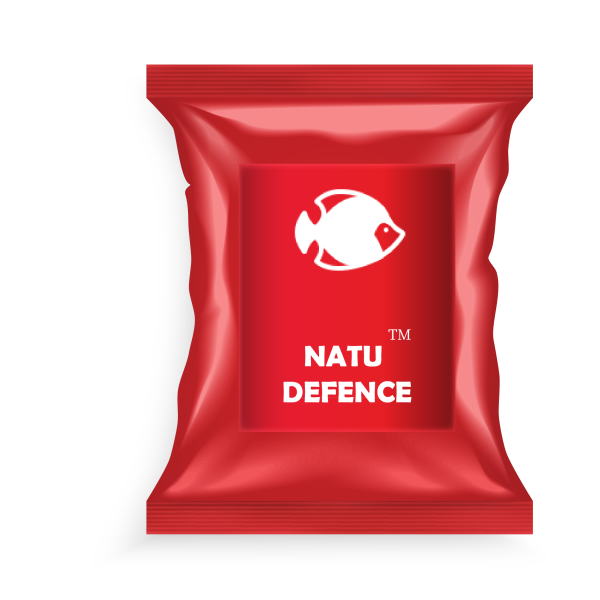 Natural non antibiotic Growth promoter for the Effective management of Gut & Digestive tract
Natu Defence is a Natural preparation which keeps intestinal and immune system healthy, stimulate gut motility, improve appetite, feed absorption and body weight in aquatic animals. It exert stimulating effect on intestinal tract, promote growth of intestinal villi, enhances energy level, helps in strengthening body muscles and tissues, scavenge oxygen free radicals, protect from respiratory disorders and risk of early death and health of target species with Natu Defence there is no need to add any formal antibiotics in diet.
For Powder
Calendic acid
Emblinin
Alicin
Eugenol
Cichoric acid, Withanolides
Ginsenoides
 
For Liquid
Spearmint 5 %
Origanum vilagare 6 %
Mentha piperita 3 %
Cinnamomum ceylanicum 3 %
Ginger 2 %
Onion 2 %
Base q.s.
Healthy G.I.T management. 

Good for healthy gut functioning 

Good to stimulate respiratory system 

Good to maintain immunity and resist stress 

Good to scavenge oxygen free radicals 

Good for better egg yield and quality at hatchery level 

Good to protect from risk of harmful parasites Good body weight at time of harvesting 
Powder : 1 kg & 25 kg Paper Bag
Liquid : 1 Ltr Bottle & 5 Ltr Jar
Powder : 500 gm per ton of feed

or as directed by Aquaculture consultant