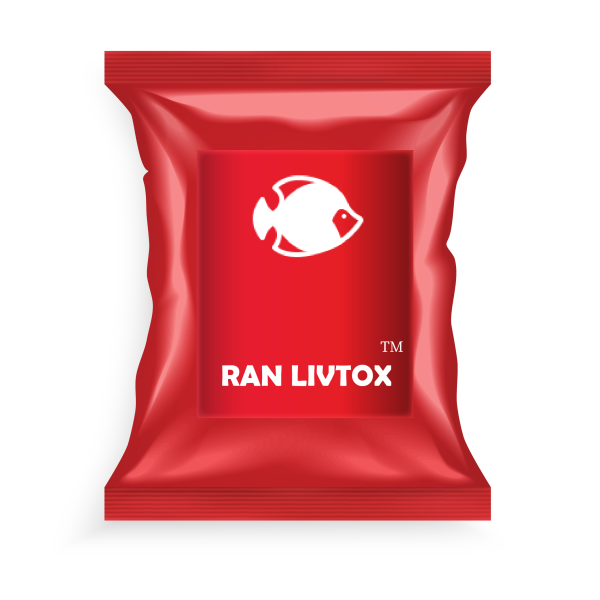 Semi Herbal Preparation To Support Better Detoxification
RAN LIVTOX aqua feed a unique preparation that aid as toxin binder. It helps in maintaining sufficient water oxygen level, helps in diluting the toxic effects of mycotoxins, aid as antioxidant, keep water system free from pollution, helps in maintaining metabolism process in aquaculture, maintains immunity, performance and productivity. 
Per 1000 gm Powder
Azadirachta Indica 20000 mg
Andrographis Paniculate 20000 mg
Emblica Officinalis 20000 mg
Tephrosia Purpurea 20000 mg
Silybum Marianum 8000 mg
DL-Methionine. 2000 mg
L Lysine 2000 mg
Inositol 5000 mg
Silymarin 1000 mg
Choline Chloride 10000 mg
EDTA 4000 mg
Acetic Acid 15000 mg
Propionic Acid 15000 mg
Citric Acid 50000 mg
B.H.A. 6000 mg
Activated Charcoal 10000 mg
Mannan-oligosaccharides 60000 mg
Sodium Aluminosilicate q.s. up to 1000 g
Helps in neutralizing the effect of mycotoxins 

Helps in improving water quality 

Helps in maintaining dissolved oxygen level 

Helps in absorbing toxic gases from water system 

Helps in providing healthy environment to shrimp 

Helps in pollution free water culture 

Help in Liver Growth 
During mild Conditions : Mix 500 gm of RAN LIVTOX in each MT of feed

During Acute Conditions : Mix 1 Kg. of RAN LIVTOX in each MT of feed

or as directed by aquaculture physician consultant.