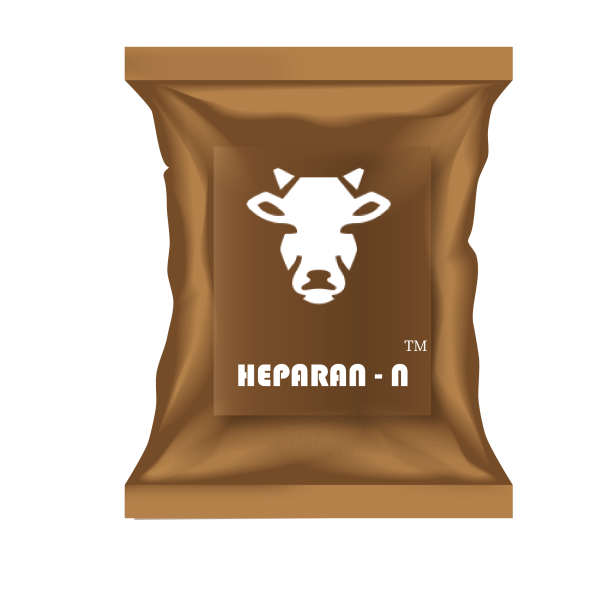 Natural Hepatic protector
HepaRan – N is a supreme quality liver tonic that helps to cleanse and detoxify the system in an effective manner, henceforth, promoting better digestion, maintaining good gut health and supports liver function resulting in overall better growth and development of animals. It protect from Fatty liver as well other liver disorders. It also helps in better energy utilization.
100 gm contains:
Solanum nigrum 3 gm
Tephrosia purpurea 4 gm
Fumaria officinalis 2.gm
Cichorium intybus 2.50 gm
Andrographis paniculata 3 gm
Terminalia chebula 2 gm
Pimpinella anisum 1 gm
Terminalia arjuna 2 gm
Emblica officinalis 2 gm
Picrorhizakurroa 0.5gm
Eclipta alba 2 gm
Swertiachirata 1 gm
Glycyrrhiza glabra 1 gm
Ferula asafoetida 2 gm
Boerhavia diffusa 2 gm
Excipients q.s.
Helps to maintain metabolism process

Reduces risk of toxins, inflammation and stress 

Support proper feed utilization, digestion and Growth 

Maintains immune response

Maintains peak performance.

Maintains appetite and body weight 

Increase Milk quantity and Milk Fat by helping better fibre digestion
Liquid: 500ml, 1 ltr & 5 ltr
Camels                               40 ml

Daily

Cattle, Buffalo & Horse     20 ml

Daily




Calf, Colt, Sheep, Goat      10 ml

Daily




or as directed by the veterinary consultant.