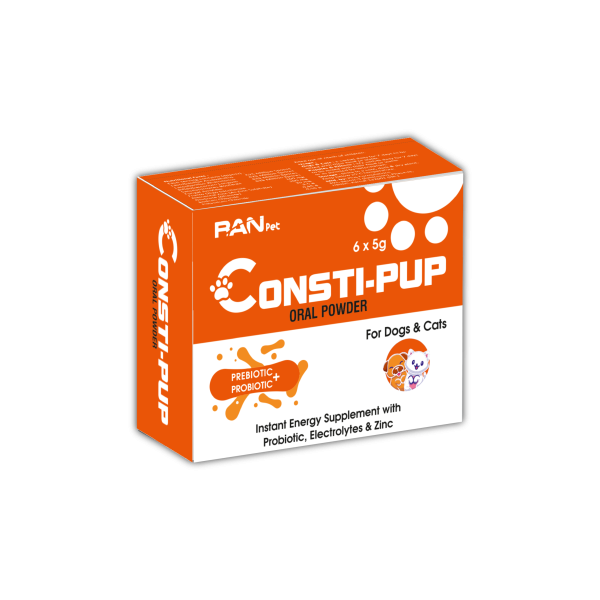 Instant Energy Supplement with Probiotic, Electrolytes & Zinc
Consti-Pup oral powder is excellent product as prebiotic and probiotic for dogs & cats. It provides instant energy along with Probiotic and electrolytes. It relief from indigestion, diarrhea and acidity as well support healthy digestion. Probiotics and prebiotics enhance digestion & energy level in pet while improving gut immunity.
Nutritional Value (Per Serving)
Lactobacillius Acidophillus. 625 Million
Lactobacillius Rhamnosus 625 Million
Bifidobacterium Longum. 625 Million
Saccharomyces Boulardii 625 Million
Fungal Amylase 100 mg
Fructo Oligo Saccharide. 200 mg
Elemental Zinc (As Zinc Sulphate). 20 mg
Dextrose (Glucose) 3.5 gm
Sodium Chloride 0.65 gm
Potassium Chloride. 0.55 gm
Relief from indigestion & flatulence
Heals unhealthy gut walls.
Reduce stomach pain, Diarrhea & acidity.
Improves Nutrient absorption & increases weight gain
Support healthy digestion.
Improve immune system & health.
Dogs & Cats: 1 Sachet daily for 7 days to be mixed with their food or water.
Puppies & Kittens: ½ sachet daily for 7 days to be mixed with their food or water.
Or as directed by veterinarian