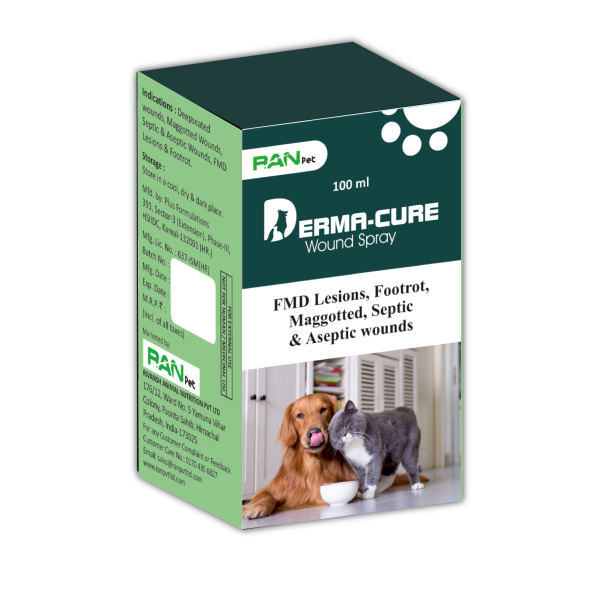 Antimicrobial, Antifungal, Footrot, Maggotted, Septic & Aseptic wounds
DERMA-CURE Dusting Powder for Pets, a powerful and versatile solution to address a range of dermatological concerns in your furry companions. This specially formulated powder boasts potent antimicrobial and antifungal properties, making it an effective choice for treating a variety of skin issues, from footrot to septic and aseptic wounds. Whether your pet has encountered a minor injury or is grappling with a more serious condition, DERMA-CURE offers reliable relief and support.
Contains standardized extracts of the following herbs:
Devadaru (Cedrus deodara) 33%
Neem (Azadirachta indica) 20%
Haldi (Curcuma longa) 5%
Voila Ordorate (Salix) 1%
Styrax Benzoic (Benzoic Acid) 3%
Chakra Mard (Cadditora) 0.03%
 Base q.s.
Indicated to treat wounds with its antimicrobial, antibacterial and antifungal properties plus it repels flies and maggot for faster healing.
For best results clean the affected part and sprinkle Derma-Cure Dusting Powder in sufficient quantity sufficient to cover whole affected area.
Use twice daily until complete cure is achieved
Or as directed by Veterinarian.