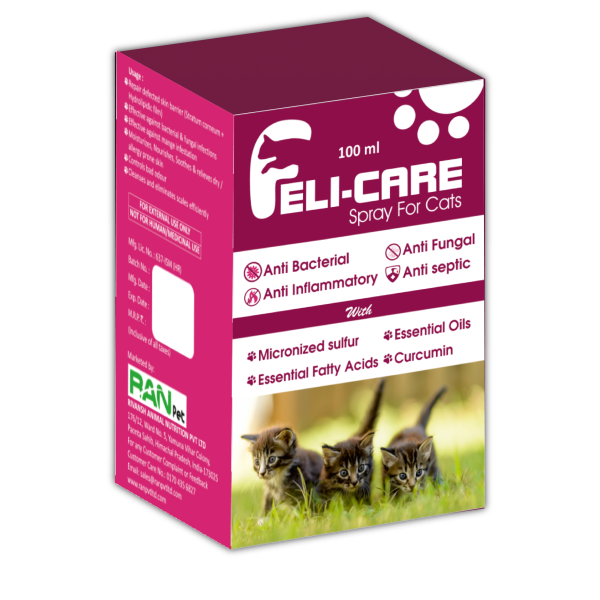 Anti-Bacterial, Anti-Fungal, Anti Inflammatory Anti Septic With Micronized sulphur, Essential Oils & Essential Fatty Acids Curcumin. An Ayurvedic Proprietary Medicine.
Flax seed oil (Standardized Essential Fatty Acids (EFA))
Melaleuca oil
Lemon Grass oil
Frankincense oil
Myrrh oil
Evening primrose oil (Standardized LA & GLA)
Purified sulphur
Curcuma longa (Standardized to contain NLT
95% Curcumin)
Styrax benzoic (Benzoic Acid)
Voila ordorate (Salicylic Acid)
Base
Repair defected skin barrier (Stratum corneum Hydrolipidic film)

Effective against bacterial & fungal infections

Effective against mange infestation

Moisturizes, Nourishes, Soothes & relieves dry / allergy prone skin.

Controls bad odour.

Cleanses and eliminates scales efficiently.

FOR EXTERNAL USE ONLY
Shake well before use.
Clean the affected part and spray Feli-Care in sufficient quantity twice daily until complete cure is achieved.
There is no additional requirement of application of ointment, lotion or dusting powder upon Feli-Care sprayed wound
Or as directed by Veterinarian.