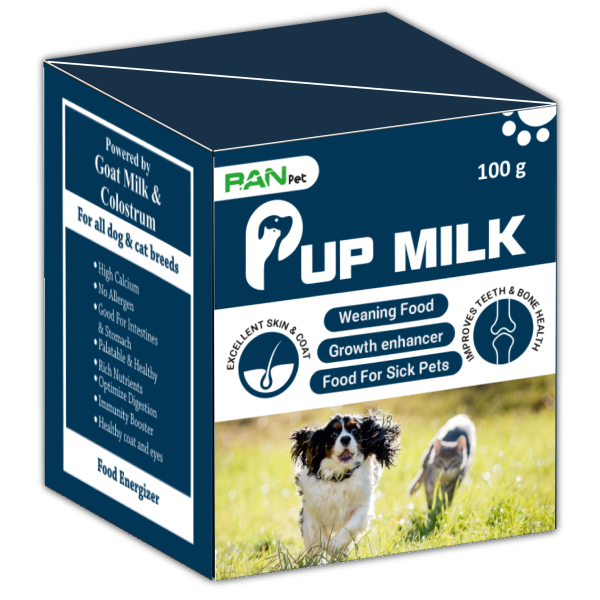 Growth Enhancer & Food for sick Pets
PUP MILK is unique product made of goat milk & colostrum for all dogs & cats breeds. It can be directly mix into dry or wet food while there is no need to mix in water or milk. It contains high calcium with no allergens. It is excellent for intestines & stomach as whole. It is highly palatable & healthy with very rich nutrients. It also helps in development of immunity while also make coat healthy.
Each 5g contains:
Energy 10.65 Kcal
Carbohydrate. 0.95 gm.
Sugar 0 gm.
Protein 1.1 gm.
Fat 0.25 gm.
Fibre 0.1 gm.
Vitamin A 1100 IU
Vitamin D 3110 IU
Vitamin C 2.5 mg
Vitamin B 1250 mcg
Vitamin B. 2250 mcg
Niacinamide. 500 mcg
Vitamin B 6250 mcg
Vitamin E 2.5 lU
Vitamin B. 1225 mcg
Folic Acid 5 mcg
L-Arginine 1.125 mg
Taurine 1.125 mg
D-Biotin 1.75mcg
Proline 0.75 mcg
Elemental Calcium 250 mg
Phosphorus. 125 mg
Prebiotic 50 mg
Probiotic blend 625
Million CFU
Colostrum 250 mcg
Excipients q.s.
From Mother Milk to Solid Food. A Complete food for young growing puppies & kittens
Formulated for healthy growth & development with high quality protein
Tastes delicious & offer superior digestibility
Improves weight gain
COLOSTRUM keeps the pups immune system balanced and help to flight against microbial infections.
COLOSTRUM provides vital nutrients & have immune-boosting properties
Puppy
Body weight up to 5 kg 5-10 g/day &
over 5 kg to 20 kg 10 – 15 g/day
Medium DOGS
Wt. over 20 kg to 40 Kg 15 – 20 gm/day
Large Dogs
Lactating Bitches
15 – 20 gm/day
Can be mixed directly with dry or wet food as per body weight
No need to mix in milk or water
No starvation is needed before or after dose