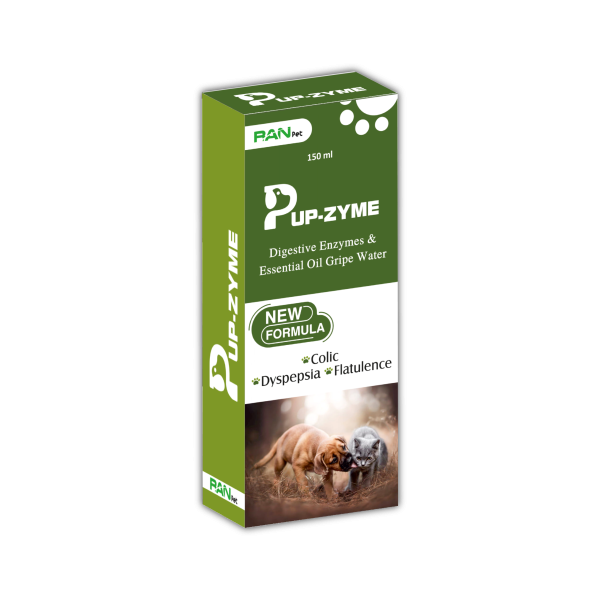 Digestive Enzymes & Essential Oil Gripe Water
PUP-ZYME IS ADVANCED NEW FORMULA FOR VARIOUS ISSUES IN PETS LIKE COLIC, DYSPEPSIA & FLATULENCE. IT CONTAINS VARIOUS BENEFICIAL ENZYMES AS WELL ESSENTIAL OIL GRIPE WATER WHICH IS VERY GOOD FOR THE OVERALL WELL BEING OF DIGESTIVE TRACT.
Fungal Diastase (1:1200.
Pepsin (1:3000)
Sodium bicarbonate
Fennel oil
Colinger
Cinnamon oil
Licorice oil
Clove oil
Peppermint oil
Stimulates digestive functions by increasing saliva production and promoting both stomach acid & digestive enzyme production.
Helps control flatulence, abdominal discomfort, colic & dyspepsia.
Upto 5 kg b.wt : ½ teaspoon, 2 times daily
Upto 5-15 kg. B. Wt : 1 teaspoon, 2 times daily
Upto 15-25 kg b.wt : 1.5 teaspoon, 2 times daily
Upto 25-50 kg :  2 teaspoon, 2 times daily