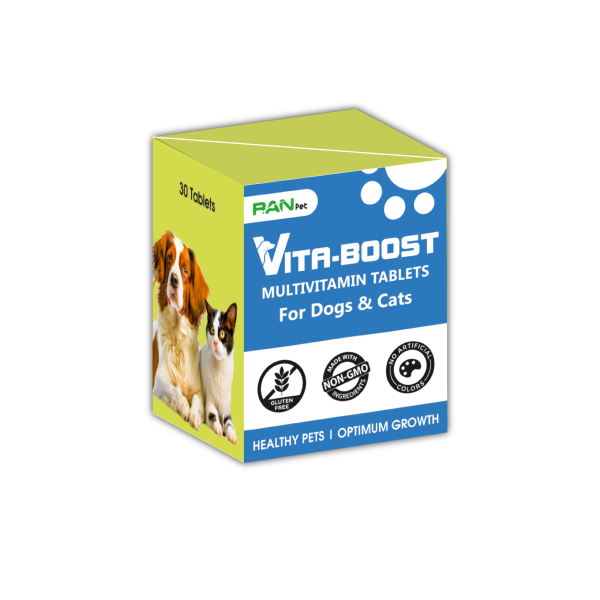 MULTIVITAMIN TABLETS For Dogs & Cats
 VITA-BOOST Multivitamin Tablets, a premium dietary supplement meticulously crafted to support the well-being of both your dogs and cats. These tablets offer a comprehensive blend of essential vitamins and minerals, promoting overall health for your beloved pets. From bolstering their immune systems to enhancing skin and coat health, VITA-BOOST provides the vital nutrients necessary for a vibrant and active life.
Each tablet contains.
Protein
Lipid
Calcium
Phosphorus
Tron
Copper
Magnesium
Cobalt
Odine
Manganese
Zinc
Vitamin A
Vitamin F
Vitamin D3
Vitamin B3
Vitamin Ba
Vitamin B12
Biotin
Pantothenic Acid
Linoleic Acid
Arginine
Lysine
Excipients q.s.
Appropriate overages of Vitamins & minerals are added
Comprehensive Nutrition
Immune System Support
Healthy Skin and Coat
Increased Energy and Vitality
Joint and Bone Health
Puppy & Kitten: 1/2 tablet daily.
Adult Small Breed: 1 tablet daily.
Adult Large breed: 1 tablet twice a day.
Adult Cat: 1 tablet daily
or as directed by veterinarian.