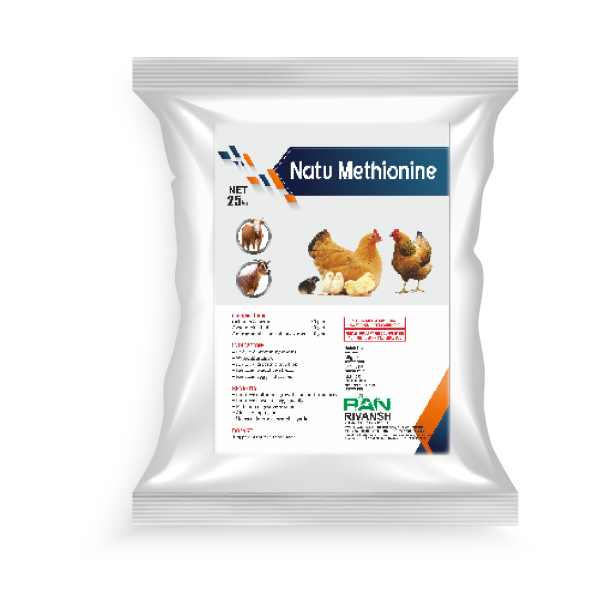 NATURAL HERBAL METHIONINE POWDER
NATU METHIONINE serves as a natural alternative to synthetic Methionine, such as DLM or MHA, with a similar mechanism of action in the body. It is highly bio-available in the blood serum, heat-stable, and ideal for Pellet and mash Feed. NATU METHIONINE supports detoxification, protects against muscular weakness, scavenges oxygen free radicals, stimulates metabolic processes, encourages healthy collagen formation, and contributes to proper bone formation.
Each 1 KG Contains:                                                                 
Plant Powder of 
Andrographis paniculata  30 %

Ocimum sanctum              25 %

Asparagus racemosus      10 %

Zea Mays                         30 %
Provide 100 % Most Bioavailable Methionine to target species

Strengthen liver functioning Maintain healthy & lively state 

Support synthesis of new cells. 

Optimizes hatchability in layer and Breeders 

Improves skeletal & muscular growth 

Improves FCR 
Replace the usage of synthetic Methionine with Herbal NATU METHIONINE. If farmer uses 1kg dl-Methionine in per ton of feed then he must use 500 gm of Natu Methionine + 500 gm of Synthetic Methionine in 1 ton of feed, it will give the same results with better bioavailability and ROI.